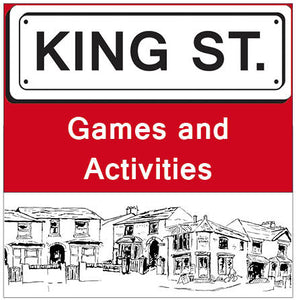 *THIS IS A DOWNLOADABLE PDF*
King Street Games and Activities are designed to develop the skills acquired during the studying of sets One, Two and Three of the King Street collection. They provide further opportunities for the student to use his/her skills and should be enjoyed by the student. Apart from some of the map activities, the games and other activities can be used independently of the books.
The map activities could provide useful support or even evidence for oral communication units: Giving and obtaining information. Teachers may wish to develop their own ideas using the map and information in the books.
Filling the empty houses on King St.
Students may wish to develop their own writing skills by creating families to occupy the 'vacant' houses in the street. The books could be written in the style of those in Set One.
Additional Information
Author : Iris Nunn
Series : King Street
Topic : Literacy
Publisher : Gatehouse Books
ISBN : 9781842311509