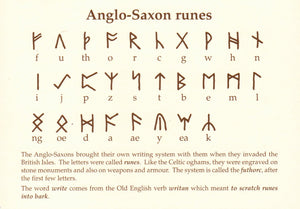 A pack of 4 designs based on extracts from A Speller's Companion, showing Anglo-Saxon Runes; Celtic Oghams; Days - then and now; Months - then and now. Blank for your own message, they are printed in brown on cream recycled card.
Pack with envelopes.
Please note: VAT will be added to this item at the checkout.
Additional Information
Author : Margaret and Hugh Brown
Series : Brown and Brown
Topic : Literacy
Publisher : Brown and Brown
ISBN : 004